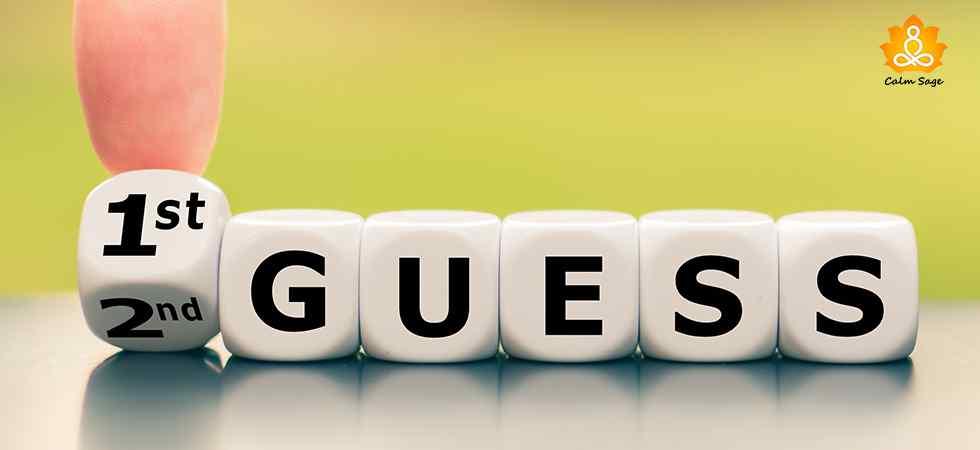 The last part of this is that some of the second guessing just comes from the mental mindset of understanding and recognizing. When you make a decision, there are consequences–good or bad–right? So if you make a good decision or you make a bad decision, you just need to recognize, I made the decision; this is all on me. Whether you second guess yourself or not, you might make a different decision next time because you remember those consequences. And that's how we learn.

Babies don't get up and start walking and then say, Oh, maybe I shouldn't, not today. They just don't think like that. They just get up, they fall down, they get up, they fall down – they keep doing it and doing it because it's part of the process. It's how we learn and grow as humans and individuals.

Learning to not second guess yourself is learning. It takes practice. It doesn't come naturally, especially if you deal with a little bit of OCD and are kind of a perfectionist. You want everything just so, and second guessing probably comes naturally to you. It's going to take some work to overcome that because it means letting go of some of that perfectionism a little bit. It's okay if it's not 100% perfect or if this is the wrong decision.

Sometimes it means looking at something from a different perspective. Many times it's not necessarily a right or wrong decision – it's simply that one decision is better than another. I've seen some of these new tests and this whole common-core math and all that; it is unbelievable. They don't even care about the right answer. They don't care. Seriously, they don't care. It's all subjective. And so when we keep that in mind and take the pressure off and we remember, okay, what's going to happen if I pick the wrong answer? Well, maybe it's not wrong. Maybe you can just go with your gut. Make your first decision and stick with it. If you get it wrong, recognize why it's wrong. We will learn to stop second guessing ourselves.