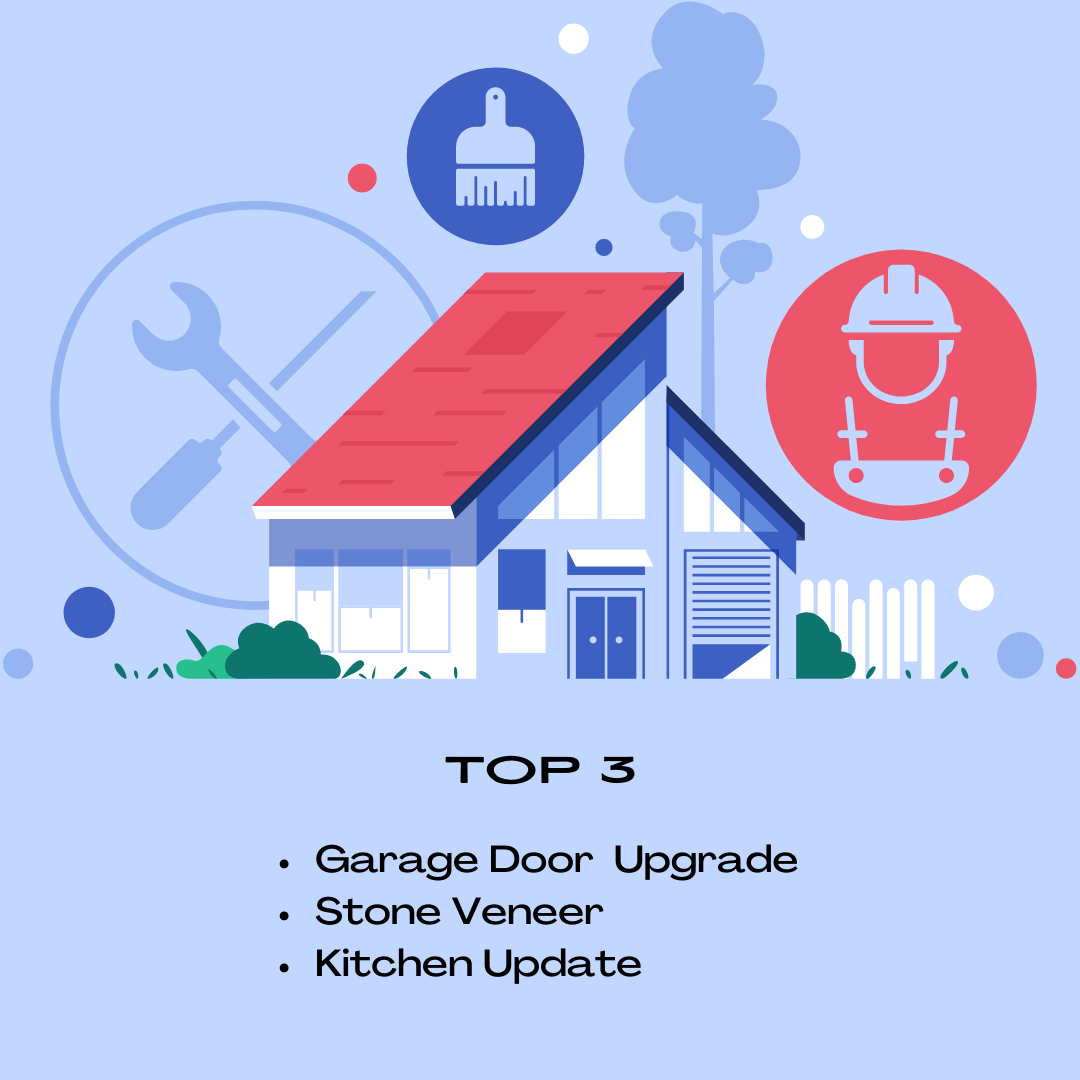 When rehabbing an investment property, the objective is to add value to the property and either sell it or hold on to it as a rental. Beyond obvious maintenance and repair issues, there are certain projects that are proven to consistently add value – on average almost a 91% Return On Investment (ROI). The top three projects to focus on are a garage door upgrade, the addition of a stone veneer, and a kitchen upgrade.
Garage Door Upgrade
Replacing an existing garage door with an upgraded version does more than just improve the curb appeal of a property, or even bring a good Return On Investment (ROI). An upgraded garage door can decrease heating and cooling costs and even increase home security. At an average cost of between $3,500 and $3,700 for a good quality upgraded garage door, an investor is likely to see an ROI of between 96% and 98%.
Manufactured Stone Veneer
Manufactured stone veneer looks like natural stone but is made from concrete. It is much less expensive than natural stone which allows for budget-conscious improvements to fireplaces, entry walls around the outside front and garage doors, and other areas where brick or block may have been used initially. Using stone veneer carries an average price tag of about $9,000, and has consistently created a return on investment (ROI) of about 92% to 95%.
Kitchen Update
Avoid fancy flooring, trendy cabinets, and specialty items like built-in coffee bars, specialty pantry drawers, etc. Stick to basics like good quality, energy-efficient appliances, plenty of cabinet space and counter space, and good lighting. The addition of an island, if the kitchen is large enough, is also a popular investment.
The average cost of a minor kitchen rehab runs around $23,000, which is a considerable investment. However, when done right, it can bring as much as an 80% ROI.
Even though the kitchen upgrade traditionally brings a lower return on investment than the other two rehab projects mentioned here, it ranks high on the list of what homebuyers are looking for in a property.
Why American Made Home Solutions?
Our mission is to rejuvenate neighborhoods and increase the standard of living by improving the overall quality of housing for the residents. In Washington State, as with the other areas we work in, we not only purchase properties, but we rehab or renovate many of those properties and either resell them or make them available as rental properties.
For other investors, if you are looking to add additional properties to your investment portfolio we have a preferred buyer program that allows us to notify you of upcoming deals.
For those individuals or families looking for a great deal on a home, you too can sign up for the preferred buyer program to receive notifications. Or, if you need to find a home quickly, contact us today so we can show you some of our current rehabbed and ready-to-move-in homes in Washington.
Conclusion
The top three rehab projects in the Washington State area, and for the most part nationally as well, also provide value to potential buyers and renters. Those three projects are garage door upgrades, the addition of a manufactured stone veneer, and a kitchen update. In addition to visual improvements, these three projects increase the energy efficiency and even security of the home.
Contact American Made Home Solutions today to arrange to see some of these completed rehab projects in our Washington properties.