RV security, what is that and how much does it cost? Well this is a picture of our RV security, Blue dog. He doesn't cost that much to feed, unless he convinces Kurt begging is suddenly allowed and Kurt has to feed him his food instead of dog food. If you have been reading our blog for any length of time, you probably know that he thinks his spot is in my front passenger seat of the RV. So, 1st thing in the morning, when Kurt starts doing things that Blue knows means we are packing up, he immediately jumps up into that spot. For some reason he thinks he called it by getting in it first. Usually our kids make up those rules when they are fighting over the front seat, but who taught Blue?
Then when I come back in from hooking up the car and I make him move, oh my word, the sassiness that comes out of that dog. He moans and grumbles very slowly off the chair in a round about way that totally blocks me, then he stretches himself all out, then slowly makes his way back to his pillow right behind and between our 2 seats. But oh, the sassiness doesn't end there. Then he grunts and groans and complains all while flattening and fluffing his pillow and circling it. He'll go on for like 10 minutes if we let him. It's almost as bad as our teenage kids were, only he's old.
You see he is about 10.5 years old, which for Staffordshire terriers is pretty old.  Their life span is only like 10-12 years.  So we see more grey coming out in his chin and face.  He hates the cold weather.  He still wants to play frisbee but won't be able to walk for almost 3 days after, unless we remember to give him aspirin for those 3 days.  He is the absolute worst cranky old man.  Just today when I was out walking him another guy and his dog walked out onto the same street as us, only he was like 50 ft in front of us and headed in the other direction.  Blue still started barking and acting like he wanted to kill the other dog, all because he was on the same street as him.  If he even sees another dog quietly sitting by an RV, not doing anything, blue will bark and carry on as if the other dog did something wrong simply existing in his view.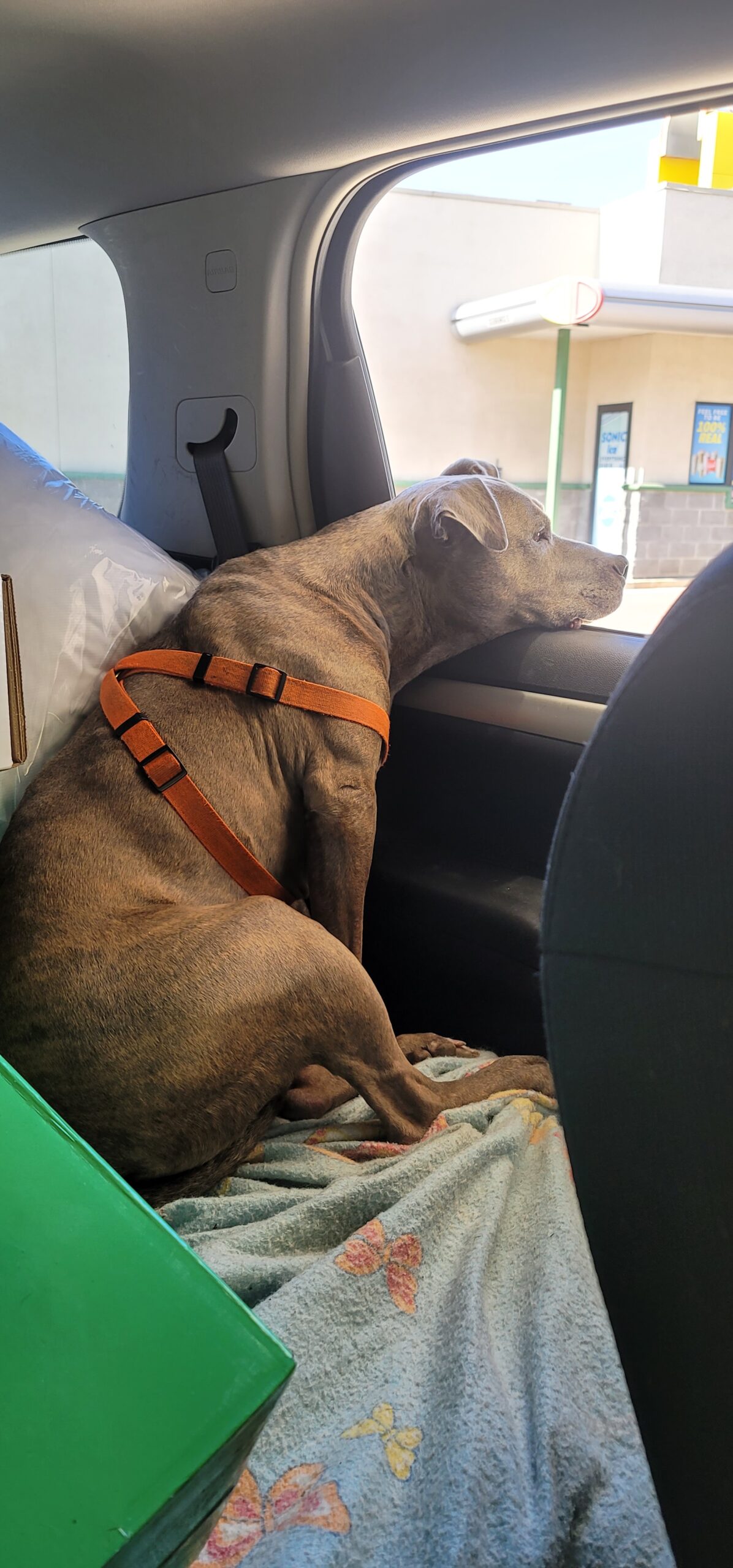 I have to constantly remind him that he used to like other dogs, and their being nice enough to not even bark, but it doesn't stop him. It just reminds us that his time is getting shorter, and he must be in more and more pain from getting old. So, we try to take him out to play in the water, so it doesn't hurt him as much. As you see in the second picture, he loves to just go take care of work, so even if he's surrounded by TVs and bedding, as long as he gets to go, even if he stays in the car, he's happy.
So, for now he is still taking his RV security role very seriously and stays on duty when he goes in the car. But we are estimating that it won't be long before he's ready for retirement. That will be a very sad day for us for sure as he will be our last dog. Through the years we've had 4 dogs 6 cats, 3 lizards, and 5 fish as pets and we are ready to be free from this responsibility. We are thankful for the many good years of companionship, rat free homes, and fun each one of them brought us.
Until the next adventure!